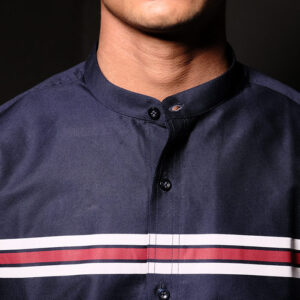 Sale -23%
Blue Trio Stripe Casual Shirt
Compare
Description
Discover effortless style with the Blue Trio Stripe Casual Shirt from Austine & Novel. This shirt boasts a refreshing blue hue and features three carefully curated stripes, creating a look that seamlessly balances casual comfort and chic sophistication.
Indulge in the tranquil blue shade that resonates with ease, while the trio of stripes adds a touch of playful charm. Whether you're strolling through the city or unwinding by the beach, this shirt is your go-to companion.
At Austine & Novel, we redefine casual elegance by offering you a shirt that's more than just attire – it's an expression of your unique flair. The Blue Trio Stripe Casual Shirt effortlessly bridges the gap between relaxed and refined, reflecting your versatile style.
Elevate your collection with a piece that captures the essence of laid-back luxury. Embrace the fusion of comfort and fashion, where each stripe narrates a story of your dynamic personality. Join us in celebrating the Blue Trio Stripe Casual Shirt – where comfort meets sophistication in style.
Blue Trio Stripe Casual Shirt
---